Sears was kind enough to contact yours truly and requested that I review their Craftsman Stainless Steel 41" Toolbox Combo.  A few weeks later, the tool box combo arrived on my door step packed nicely on a pallet which I tore into and assembled in less than an hour.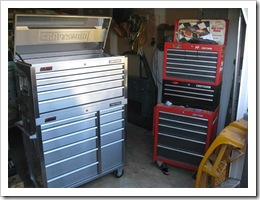 Here is a shot of the Craftsman box assembled and sitting next to my 20 year old Craftsman Box which has served me well over the years.  I just recently added a middle section (in black) that increased my capacity, but I was still running out of room.
Initial Impressions: This box is BIG, way more room than my old setup, it barely fits into my garage.  I love the look of the stainless steel, and the hardware seems to be top quality.
Construction:  The box is made from Stainless Steel and it is heavy.  The base unit is 260 lbs. and the top is somewhere around 125 lbs. making assembly a 2 man job unless you are Hulk Hogan.  The drawers are supported by ball bearing slides and support 70 lbs. of tools per drawer.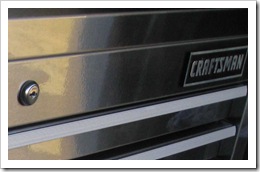 The stainless steel has an attractive brush finish and has a protective coating which appears to be a clear powder coat.  It has a slight "orange peel" texture which is common to powder-coated finishes, but it does not distract from the beauty of the tool box. (see image to left)
The handles and casters are beefy, to support the weight.  Two of the casters swivel to help moving the box around the garage.  Always remember to put the swiveling castors on the end with the handle.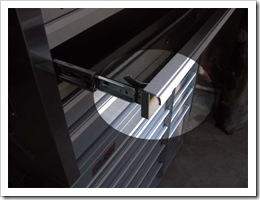 My only complaint about the construction is the "Grip Latch" system which prevents the drawers from opening while moving the tool box around.  It just feels "cheap"  There is a small latch on each end of the drawer pull and it's spring loaded using a thin section of spring steel.  The tactile feel does not agree with my engineering background.  Only time will tell if the latch system will hold up.  I personally park my tool box in the garage and rarely move it, so the latch serves no useful purpose to me.  I could imagine a mechanic who works outside on uneven ground would appreciate the drawers not popping open unexpectedly.  I had a few friends over to my house since I got the box, and had them all look at it and it's 50/50 on their opinions of the Grip Latch system.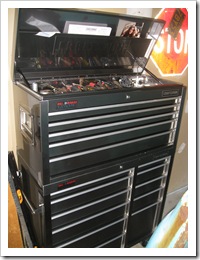 Final Impressions:  After getting all my tools into the box and maneuvering it into it's new home at the back of my garage, it was time to start using it.
My 1954 Ford Panel Truck is getting a new chassis under it, from a 1997 Ford Explorer, so the first task was to strip the Explorer of it's body.  That task has taken a few weekends and I have had a chance to use the tool box.
I appreciate the ball bearing slides on the drawers, there is little effort required to open and close even the drawers with the heaviest tools in it.  I still don't care for the grip latch, and when opening the upper drawers, I have to remember to make a conscious effort to lift up, to get the drawer open.  My 20 year old box had no latching mechanism, and no ball bearing slides.  I would take this ball bearing combo and grip latch over my old box with no ball bearings.
I went to my local Sears store to buy some accessories, drawer organizers, socket holders and some liners.  Well something I did not realize, since the top drawers are full width, there are not a lot of options to fit perfectly into the 40" wide drawers.  They make precut drawer liners which fit into the base unit drawers, but I was out of luck for the top unit drawers.
The box is easy to clean, grease and dust just wipe off.  It looks great sitting in the garage, almost too good for the surroundings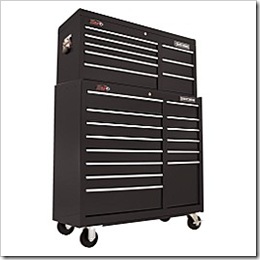 So the big question, if I was in the market for a tool box, would I buy this one?
No, I would personally go for the model without the Grip Latch and without the Stainless Steel finish.  It's about $200 – $300 cheaper than the model I tested and has normal width top drawers which make buying accessories easier.  Click the image to the right to see what box may soon be in my garage.
Since this box was sent to me gratis, from Sears, they asked that when I was done with it, I either send it back to them, or give it away to one of my visitors!  Well, it's time to figure out how to give this bad boy away.  In a few days, I will update this post with the details of how to enter the free giveaway.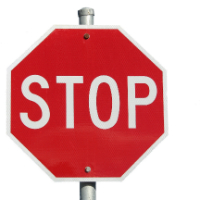 Before you click out!
While I know a lot about cars, I don't know a lot about YOUR CAR! A repair manual is essential and I have a way for you to get one FREE.
Click Here To Read More(Link opens in a new window)
Learn more with our Autoshop101 courses.
Posted: 18th April 2010 | Author: Kevin Schappell | Category: DIY Tools
Leave a Reply
You must be logged in to post a comment.