Free Auto Repair Manuals Online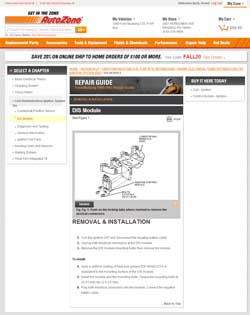 I know it's a big claim, and believe me I hesitated writing this page on my website. See, for a long time I was pushing online repair manuals from Alldata and Mitchell1. I made some money, and in all fairness, they have a great product. The online manuals gave excellent repair information, had the exploded views and wiring diagrams that I needed to fix my car plus kept me up to date on recalls and TSB information.
Well something has shaken up the industry and it's this... Alldata was bought by AutoZone and they made the decision to release most of their DIY Repair information to the public on their website AutoZone.com.
How to get your free repair information?
1. Go to AutoZone.com
2. Create a free account
3. Add a vehicle* and access the repair manuals!
4. Share this page with friends and family and be the hero!
[2020 Update]:
Unfortunately AutoZone's experiment has ended. The reality is that many car brands were pulling their repair information off of AutoZone and coverage was getting thin. I believe AutoZone made the decision that this was no longer helping bring in parts sales and removed the repair information from their website. Due to these changes I am now 100% recommending
Mitchell1
which has all the information you need to repair your car from a more stable company.
Are there other free sources of repair manuals?
Yes, you can always do a google search and dig through forums where members post pages of information at a time. Pro tip: When searching add the keyword "forum" to your search and you will get actual results from forums. Google used to have a specific search filter for forums but removed it many years ago. :-(
There are also file sharing sites which promise full PDF files of the repair manuals, if you can get past the SPAM, Malware and Viruses you end up downloading. Please note, these other methods are illegal and not a recommended way to procure an auto repair manual. Someone took the time to document the procedures and grabbing their work for free is stealing plain and simple. As they say, nothing in life is free, and you usually get what you pay for!