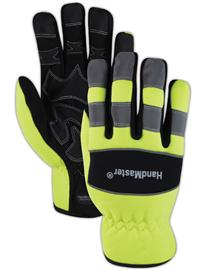 I received a pair of mechanics gloves to review from Magid Glove & Safety. First, a disclaimer, I am not a fan of ANY mechanics gloves. I prefer the touch of bare hands, and don't mind getting dirty while working on cars. Sure I spend money on hand cleaner but when working in tight places and with small parts I have historically shied away from wearing gloves. With that disclaimer out of the way, let's get on to the review…
Overall construction looks solid and the stitching looks straight and strong. The gloves provided to me are the ProGrade Plus MECH106 Road Gloves, which have high visibility reflective stripes on the back side for maximum visibility. I guess the "Road Gloves" name is logical for these gloves as they would be perfect for changing a tire along side a busy road with these reflective stripes.
Posted: 24th February 2012 | Author: Kevin Schappell | Category: DIY Tools

Stack the Deck when You Buy a Car in Michigan
Many people equate buying a car right alongside a trip to the dentist for a root canal or a tax audit. The pitfall to this attitude is that car buying is often delayed until the situation is dire, leaving the buyer without the objectivity necessary to make a calm, logical decision.
Michigan car dealers are particularly adept at spotting this type of buyer when they show up.
Here are a couple pointers to help you avoid this pitfall, and approach car buying with a little more confidence and much less trepidation.
If you had several, or even only one bad car buying experience, there is little we can do to make it into something you eagerly anticipate, but at least the process won't result with you curled up in the fetal position on the floor of a Detroit car dealer, begging for mercy.
Posted: 14th February 2012 | Author: Kevin Schappell | Category: Buying A Car